British Prime Minister Boris Johnson has said that at least one patient has been confirmed to have died with Omicron.
Mr Johnson, who yesterday warned of an impending 'tidal wave' of infections at Omicron, said: 'Sadly yes Omicron does produce hospitalizations and unfortunately at least one patient has been confirmed to have died with Omicron.
"So I think the idea that it's kind of a milder version of the virus, I think it's something that we have to put aside and just recognize the rate at which it is accelerating. in the population.
"So the best thing we can do is get our boosters."
All adults will now be able to receive a third dose of a Covid vaccine by the end of December after his government advanced its deadline by one month.
But in a sign of huge demand, the National Health Service (NHS) vaccination booking site crashed and users requesting rapid test kits were told they were out of stock.
The "turbocharged" recall program saw military planners asked to set up and operate 24-hour supplemental vaccination centers.
Large queues were also reported this morning outside the centers administering the booster injections.
Speaking during a visit to a vaccination clinic in west London, Mr Johnson was asked whether the expedited delivery of the booster program was too little too late.
He said: "We now want to hit Warp Speed ​​and we will need to hit a rate and daily booster count that will exceed anything we've done before.
"But I have no doubt that we have the people, we have the enthusiasm, we have the fundamental optimism about what we can do, what we have learned from the experience of the last 18 months."
Johnson said Omicron now accounts for around 40% of coronavirus cases in London and "tomorrow will be the majority of cases" in the capital.
He said: "The risk is clearly there, we can see Omicron increasing now in London and other parts of the country.
"Here in the capital, it is probably around 40% of cases. By tomorrow it will be the majority of cases and it is increasing all the time."
The British government yesterday raised the national Covid alert level due to the high levels and increasing rates of transmission of the virus mutation.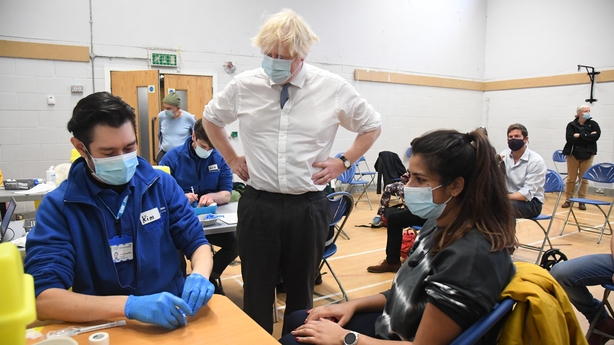 "We are clearly once again in a race between the virus and the vaccine," Health Secretary Sajid Javid told BBC radio this morning, promising to "throw everything away" on the scheme.
Some 500,000 booster shots were given on Saturday, but to reach the new deadline, that number will need to be doubled every day for the rest of the year to slow the spread.
Mr Javid said there had been a "phenomenal growth" in Omicron infections since it was first detected in Britain in late November.
But concerns have grown about a new wave over indications that two jabs are less effective against the infection than three.
Yesterday, 1,239 confirmed cases of the variant were recorded and scientists said their number doubled every two or three days.
Vaccination rates are high in Britain, with more than 81% or 46.7 million people aged 12 and over having had a second vaccine.
Some 23 million or 40% have so far had a boost.
The new measures come after face masks were made mandatory in indoor public spaces last Friday, and new testing and self-isolation rules for contact cases began today.
Vaccine passports for some overcrowded locations, including football fields, are expected to be applied from Wednesday.
The rules only apply to England. The decentralized governments of Scotland, Wales and Northern Ireland, which are responsible for health policy, have similar measures.
But they also announced accelerated stimulus packages.
The nation's vaccination race will come at the cost of already delayed elective surgeries, such as hip or knee operations, the government has admitted.
"These decisions are not easy, but at one point there is only limited capacity in the NHS," said Mr Javid, who added that there are currently ten people hospitalized with Omicron.
Additional report AP